Free Shippingon orders over $150
Boss to Coach Kit (Digital)
New name. Same powerful digital Gallup resource. The digital version of the Leading High-Performance Teams Kit is now the Boss to Coach Kit (Digital). Engage the hearts, minds and talents of your team to improve performance. Get expert guidance on employee engagement, strengths-based management and more -- all from your favorite device.
Please note:
This product is available in English (U.S.) only and is delivered digitally.
Payment & Delivery
You must have a minimum of four participants to purchase a survey.
Product Details
Benefits of the Boss to Coach Kit (Digital)
This kit will help you:
tap into your team's natural talents
eliminate performance barriers using ongoing coaching conversations
shape your workplace culture to accelerate performance development
understand the building blocks of employee engagement and how they relate to performance
improve employee engagement
build trust on your teams
grow your bottom line
Product Details
No matter what industry you're in, these three statements hold true:
Your team can perform better.
You can make it happen.
As a manager, you have the greatest influence on your organization's growth.
Featuring the equivalent of hundreds of pages of guidance and proven solutions backed by Gallup's extensive research, the Boss to Coach Kit (Digital) demystifies the art and science of world-class management.
With this kit, you'll get the tools to improve employee engagement, solidify employee commitment and reach new heights of performance.
Accessible from any web-ready device -- get the benefit of Gallup's decades-long research into manager and team performance right at your fingertips.
Develop Strengths
Understand your own management talents and the strengths of your team. Then, apply them for greater team engagement, productivity and performance.
Focus on Engagement
The more you do for your employees, the more successful they will be. Increase productivity and success by leading with a focus on engagement.
Improve Performance
Learn what the greatest managers do differently to improve team performance -- and how to integrate findings from Gallup's research into your management style.
Discover how a strengths-based, engagement-focused and performance-oriented approach can help your team learn, grow and succeed.
With the digital kit platform, you get additional valuable features. For example, you can:
add coaching notes to different sections
download resources such as worksheets for activities
use interactive activities and images
search and bookmark your favorite pages
What's Included
What's Included
The Boss to Coach Kit (Digital) includes all of the tools and resources in the print version of the kit, as well as:
interactive tools and videos that support each of the 34 CliftonStrengths themes and each of the 12 elements of engagement
downloadable and printable resources you can use in individual and team conversations
When you purchase the digital version of this kit, you can access the following materials via Gallup Access: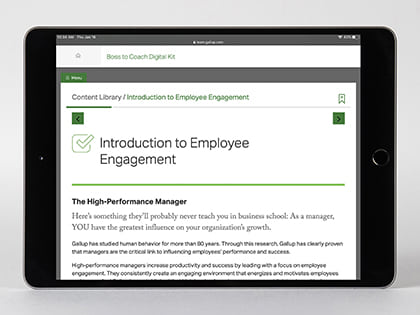 Introduction to Employee Engagement Guidebook
Use this guidebook to:
understand what it means to be an engagement-focused manager
explore the 12 actionable workplace needs of employees and their link to real business results
learn how to increase the productivity and success of each employee and your team by leading with a focus on employee engagement every day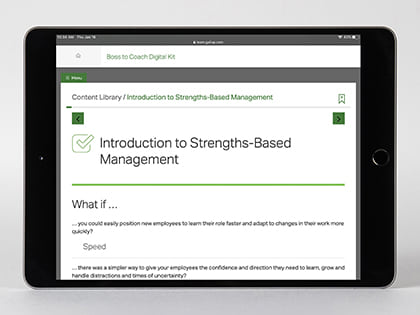 Introduction to Strengths-Based Management Guidebook
Use this guidebook to:
learn how to harness employees' strengths for greater productivity and performance
explore the 34 CliftonStrengths themes of talent
get strategies to help your employees learn, grow and succeed by applying their unique talents and strengths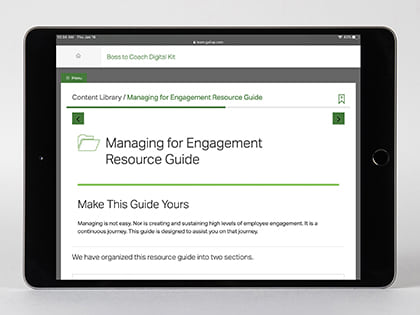 Managing for Engagement Resource Guide
This guide features detailed information for each of the 34 CliftonStrengths themes and for each of Gallup's Q12 employee engagement items. Use this guide to:
discover how your talents influence your actions, biases, opinions and choices
learn more about each of your employee's talents and how to set each person up for success
find out how to accelerate your team's engagement through discovery questions, manager insights and team activities for each of the 12 elements of engagement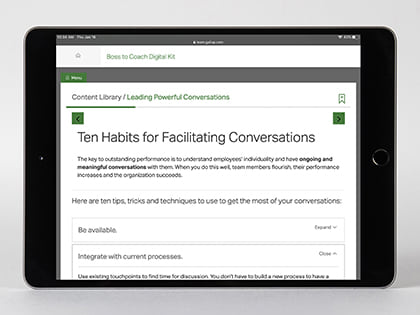 Engaging Conversations for Individuals and Teams Guide
Great conversations are one of the most important and effective tools you can use to improve engagement. Use this guide to keep engagement conversations alive with individual employees and your entire team.
To help you prepare, lead and take action on your insights, you'll go step by step through the most important individual and team conversations:
Understand and Appreciate Strengths to acknowledge the individual and collective strengths of your team.
Build Engagement and Collaboration to create engaged employees who are involved in, enthusiastic about and committed to their work and who make positive contributions.
Drive Performance to clarify performance expectations and help employees recognize, develop and use their individual and team strengths to accomplish goals.
State of the Team to assess your team's current state of engagement and lead team members to take action to realize their performance goals.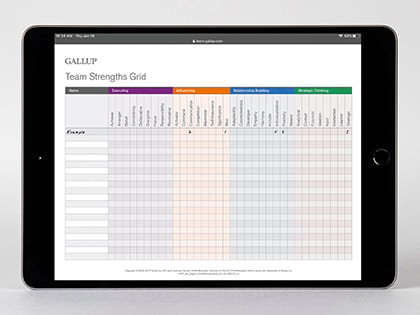 Additional Tools and Resources
Tools and Resources for Individual Conversations: the Individual Conversations guide and Strengths Profile tool from the Engaging Conversations for Individuals and Teams Guide
Engagement Posters: colorful posters to build excitement about engagement initiatives and to increase participation in your Q12 survey
Understanding Your Q12 Results: easy-to-follow tool that provides an overview of how to read and understand your Q12 survey results and what you should do after the survey
Frequently Asked Questions
Frequently Asked Questions
Is this kit available in a print version?

Yes. The Boss to Coach Kit is also available in a print format. Please note: The print format of this kit is called Leading High-Performance Teams Kit (Print).
Do I need to have taken the CliftonStrengths assessment to use this kit?

Yes. We recommend that managers and the people they coach complete the CliftonStrengths assessment to get the most benefit from the conversations and activities in the Boss to Coach Kit (Digital). The CliftonStrengths assessment must be purchased separately.
Specifications
Specifications
Format

Digital

Other formats available

Print

Delivery method

Digital

ISBN

978-1-59562-145-0

Languages available

English (U.S.) The print version of this kit may be available in other languages for corporate purchase.