Free Shippingon orders over $150
Strengths Based Selling
There's no one right way to sell. Get the best sales results by building on who you already are, not by trying to be like someone else. Strengths Based Selling examines the entire selling process and includes access to the CliftonStrengths assessment so you can identify and maximize your talents to sell more effectively.
Product Details
How often have you heard this: Learn just one simple technique -- or follow these three steps to boost your sales! Just heed the advice of this guru or that speaker, and you'll be the best!
Well, that approach just doesn't work for most salespeople. And it probably doesn't work for you either.
So what does work?
The Key to Sales Success: Your Talents
Decades of Gallup research find that the most successful reps understand their natural talents and strengths and apply them to sell more effectively.
Strengths Based Selling explains sales talent and gives you practical, hands-on advice for how to use your natural talents at every step of the sales process. And, it includes an access code to take the Top 5 CliftonStrengths assessment, which reveals your unique talents and strengths so you can win business your way.
What's Included
What's Included
Strengths Based Selling delves into the entire selling process -- from assessing opportunity and cold calling to retaining and growing accounts. Hear insights from highly successful salespeople, and get action items that will help you make the most of your sales talent.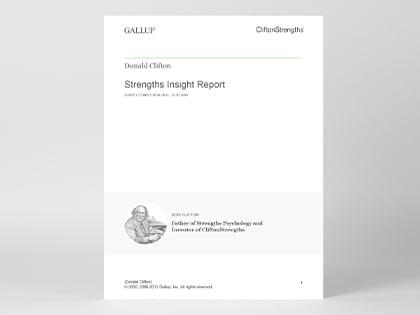 Learn More
Top 5 CliftonStrengths
Every new copy of
Strengths Based Selling
includes an access code to take the
Top 5 CliftonStrengths assessment
. After you complete the assessment, you'll get personalized results and reports for your CliftonStrengths 1-5, giving you a partial view of your full
CliftonStrengths 34
profile.
Frequently Asked Questions
Frequently Asked Questions
Does this book include any assessments?

Yes. This book includes a unique access code to take the Top 5 CliftonStrengths assessment.
How will I receive my access code?

When you purchase a physical book that includes an access code(s), you can find your access code(s) in a sealed packet in the back of the book. The packet includes your unique access code(s) and instructions for how to redeem your code(s) and take the online assessment(s). You will not receive any access codes digitally when you purchase a hardcopy version of a book because all codes are delivered to you in the sealed packet.
What do I do if I need a CliftonStrengths access code immediately and cannot wait for my book to arrive?

You can purchase the Top 5 CliftonStrengths assessment or CliftonStrengths 34 assessment. Access codes for both of these products are delivered digitally.
Specifications
Specifications
Format

Hardcover

Other formats available

NA

Delivery method

Mail

ISBN

978-1-59562-048-4

Approximate page count

224

Publication date

March 2011

Dimensions (W x L x thickness)

5.5 x 8.5 x 0.9 inches

Product weight

0.851 lb.