Free Shippingon orders over $150
Faith Member Engagement (ME25) Survey Program
With the ME25 Survey Program, church leaders can easily and effectively measure, manage and maximize the engagement of each member of their faith community.
You must have a minimum of four participants to purchase a survey.
Benefits of the ME25 Survey Program
The tools in this engagement survey program will help you:
understand spiritual engagement
measure the engagement of your faith community
enhance the spiritual health of your faith community
Product Details
The ME25 Survey Program is a tool that helps church leaders measure and improve the engagement and spiritual health of their faith community.
For decades, Gallup scientists have researched engagement and have discovered that member engagement drives factors that are essential to the health of a faith community.
Gallup finds that engaged members have a high level of ownership for the mission and ministry of their faith community and are:
more than 10 times as likely to invite someone to participate in their congregation
nearly three times as likely to say they are extremely satisfied with their life
likely to spend more than two hours per week serving and helping others in their community
likely to give three times more to their faith community annually
The ME25 Survey Program gets to the heart of engagement, giving you the tools and insights to develop a healthy and committed faith community.
What's Included
What's Included
The ME25 Survey Program includes:
one congregation-wide administration of Gallup's ME25 Member Engagement Survey for up to 500 individuals (Additional surveys are available for $2 each)
Member Engagement Guide, which walks you through every step of the process
digital tools, templates and customizable materials
instructional videos, including Why Engagement Matters, Understanding Your Member Engagement Results, Impact Planning Overview and Sustaining Engagement
You will also get these items: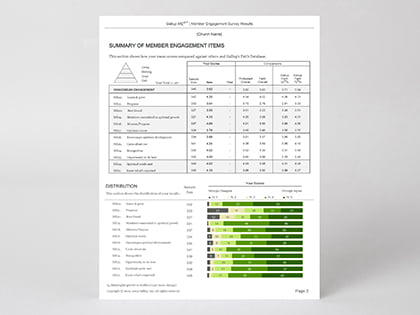 View Sample
ME25 Survey Results Report
Get to the heart of your faith community's engagement with this report that summarizes your survey results and compares them with other communities in Gallup's faith database.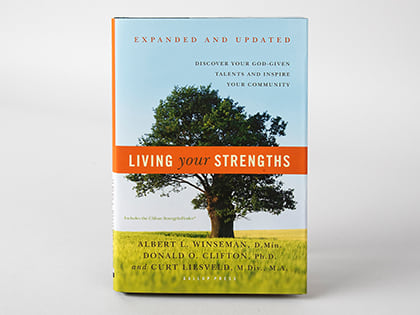 Learn More
Living Your Strengths
Spiritual enrichment begins with turning your God-given talents into strengths. Learn more about yourself and your faith -- and how to use your innate gifts for growth, service and praise. Living Your Strengths includes access to the CliftonStrengths assessment. This book is also available in a Catholic edition.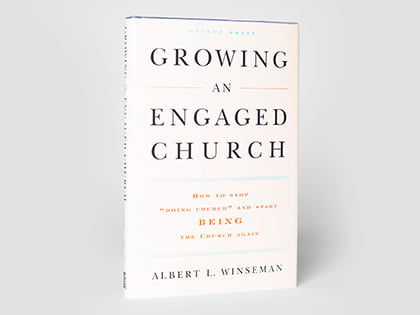 Growing an Engaged Church
This compelling and insightful book explores how congregations can engage their members -- dramatically increasing participation, service to the community, giving and life satisfaction.
Frequently Asked Questions
Frequently Asked Questions
How many questions are on the ME25 Survey?

The ME25 survey has 25 items: nine items that measure individual spiritual commitment; 12 items that measure member engagement; and four outcome items about life satisfaction, inviting, serving and giving. The survey also includes seven demographics questions.
After I administer the survey, can Gallup advise me on how to improve engagement in my faith community?

Yes. Many faith communities contract a Gallup expert to help interpret survey results and determine the best plan of action for their congregations. To learn more, contact the Gallup Faith team at 800-204-1192 or faith@gallup.com.
Is the ME25 Survey Program available in any language other than English?

Yes. This product is available in English and Spanish.