CliftonStrengths for Managers
S$75.00
Tax may be included
The CliftonStrengths for Managers report helps individuals see how their unique talents can make them, their teams and their organizations more successful. Get your top 10 themes, personalized reports, manager-specific insights and more.
Sample Report
Bundle Products and Save
Bundle Price -
S$135.00

(save 18% off retail)
* The same person must redeem all bundled products
Product Details
Explore your top 10 themes, personalized reports and manager-specific insights.
Use practical action items and reflection questions to help form stronger teams
Discover how each theme can contribute or get in the way of your success
Perfect for managers, HR leaders and aspiring managers
What's Included
What's Included
CliftonStrengths for Managers includes an access code you can use to complete the CliftonStrengths online talent assessment and unlock your personalized reports and other strengths-based development materials, including:
CliftonStrengths for Managers Report
The CliftonStrengths for Managers report includes your top 10 themes and outlines what you need to do to use those themes for your team's and organization's success.
Strengths Insights Guide
Get an in-depth analysis of your top five CliftonStrengths themes. Unique to your CliftonStrengths profile, this report describes who you are in astonishing detail and explains what makes you stand out.
Your Signature Theme Report
This report lists full descriptions of your top five CliftonStrengths themes -- your Signature Themes -- so you can quickly reference your most dominant talents.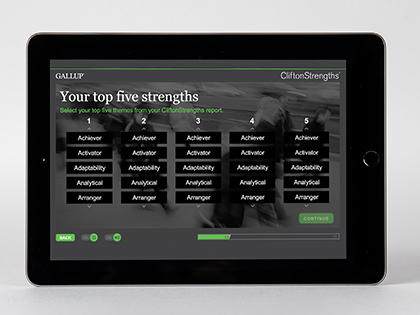 E-Learning Modules
During these interactive learning modules, "CliftonStrengths: Your Leadership" and "CliftonStrengths: Your Team," you learn how to use your strengths to personalize your approach to managing individuals and teams.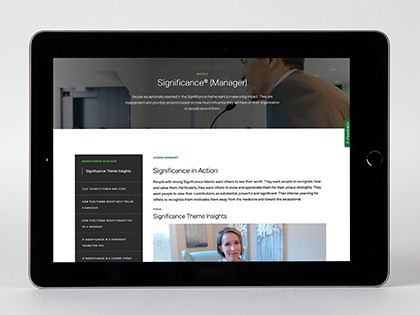 Manager Theme Modules: All 34 Themes
Learn more about strengths-based development with introductory videos to each of the 34 themes and other supporting materials for managers.
Frequently Asked Questions
Frequently Asked Questions
If I want to buy this report, do I have to be a manager?

No. This report is for people and process managers, aspiring managers, leaders or anyone who wants manager-specific insights into their strengths.
Will this report give managers even more work to do?

Designed to make managers' lives easier, the CliftonStrengths for Managers report is a tool for managers -- not just another item on their to-do list. A manager's job gets less complicated when they understand how to use their strengths to do their job.
How is the CliftonStrengths for Managers report different from CliftonStrengths 34 report?

The content in the manager report is entirely different from the CliftonStrengths 34 report. While the CliftonStrengths 34 report includes personalized insights into your strengths as an individual, it doesn't have anything specific to the manager position. The CliftonStrengths for Managers report has content created exclusively for a managerial role.
If I already have my strengths, is there a discount for this report?

There is no discount for the CliftonStrengths for Manager report if you have already taken the assessment and have access to your Top 5 or CliftonStrengths 34.
What if I have already taken the CliftonStrengths assessment and have other reports?

You do not need to retake the CliftonStrengths assessment. After you purchase the CliftonStrengths for Managers report, you will receive a code to redeem it, which adds this new report to your existing account. Even if you only have your Top 5, you get your 10 most dominant themes in the CliftonStrengths for Managers report.
How long does it take to complete the CliftonStrengths assessment?

The CliftonStrengths assessment takes approximately 45 minutes to complete on average.
Is this CliftonStrengths assessment timed?

Yes. The CliftonStrengths assessment asks you to choose between two paired statements. There are 177 total statement pairs. For each statement pair, you have 20 seconds to respond. This time limit and your unfamiliarity with the statements ensure the assessment's accuracy by reducing the likelihood of overthinking your responses. If you have a reading disability, you can call Gallup Customer Support at 1-888-486-9104 to have the assessment timer disabled.
What languages is the CliftonStrengths for Managers report available in?

This report is available in English, Japanese, Chinese, German, Spanish, Portuguese, Korean, Indonesian, Dutch, French and Thai.
How do I distribute the CliftonStrengths access codes I purchased for multiple people?

You can distribute the access codes you purchased for others in several ways through the Code Management dashboard on Gallup Access. You can invite individuals to complete their assessment by sending them an email from the system, or you can export a CSV file containing unique, one-time-use codes to send to each individual.