CliftonStrengths 34 Upgrade
S$75.00
Tax may be included
CliftonStrengths 34 is the best way for individuals and teams to understand their talents and maximize their potential. Using an access code to upgrade Top 5 CliftonStrengths to CliftonStrengths 34, you'll get access to your full CliftonStrengths profile as well as personalized reports and other resources.
Product Details
Reveal the rest of your full personalized report based on your previous responses to the CliftonStrengths assessment.
Explore your full CliftonStrengths 34 profile, personalized reports, interactive learning and more.
Unlock the power of your full CliftonStrengths profile to succeed in work and life.
What's Included
What's Included
CliftonStrengths 34 Upgrade includes an access code that unlocks your CliftonStrengths themes 6-34 to reveal your full CliftonStrengths profile. You will also get access to additional personalized reports and other strengths-based development materials.
You do not have to retake the CliftonStrengths assessment to upgrade. Simply redeem the code, and Gallup will use your archived assessment responses to generate your personalized CliftonStrengths 34 reports.
CliftonStrengths 34 Report
Only CliftonStrengths 34 provides you with this in-depth personalized report. The CliftonStrengths 34 Report teaches you how to make the most of your strongest CliftonStrengths and how to understand your full CliftonStrengths profile.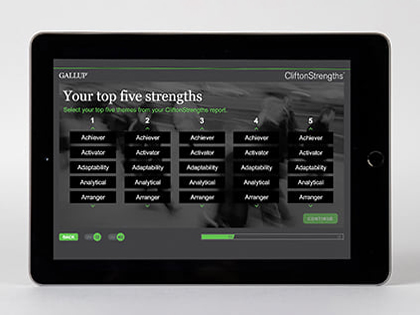 "CliftonStrengths: Your Introduction" E-Learning Module
This interactive learning experience is the first step to understanding how to develop your talents into strengths. During this 20-minute online module, you will use your personalized CliftonStrengths 34 results to learn how you can achieve your potential by doing what you naturally do best.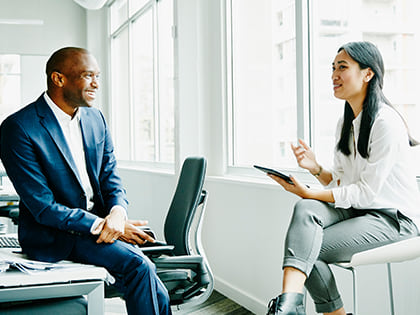 Learn More
Expert Advice via Gallup Access
From redeeming your access code to reviewing your reports and completing your online learning module, your CliftonStrengths experience begins at Gallup Access. Use this online platform to get advice and articles that will help you make the most of your CliftonStrengths.
Your Theme Sequence Report
View all 34 of your CliftonStrengths themes in order, and read brief descriptions of each theme.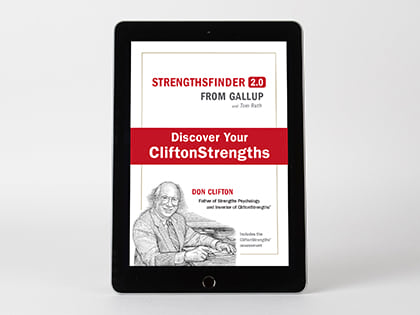 Learn More
StrengthsFinder 2.0 E-book
StrengthsFinder 2.0, Amazon's bestselling nonfiction book of all time, is one of the most popular business books ever written. Learn more about the power of CliftonStrengths and how to do more of what you do best. CliftonStrengths 34 includes a secure digital copy of the book.
Plus, when you upgrade, you will still be able to access these valuable reports that you received with your Top 5 CliftonStrengths:  
Strengths Insight Guide
Get in-depth analysis of your top five CliftonStrengths themes. Unique to your specific CliftonStrengths profile, this report describes who you are in astonishing detail and explains what makes you stand out.
Your Signature Theme Report
This report lists full descriptions of your top five CliftonStrengths themes (your Signature Themes) so you can quickly reference your most dominant talents.
Frequently Asked Questions
Frequently Asked Questions
Do I need to retake the CliftonStrengths assessment to get my CliftonStrengths 34 results?

No. You do not need to retake the CliftonStrengths assessment. When you purchase CliftonStrengths 34 Upgrade, you will receive a code that unlocks your CliftonStrengths 34 report and resources.
What is the difference between CliftonStrengths 34 and CliftonStrengths 34 Upgrade?

CliftonStrengths 34 is for people who have never completed the CliftonStrengths assessment. CliftonStrengths 34 includes all the personalized reports and interactive resources Gallup offers to individual CliftonStrengths users and a full CliftonStrengths 34 profile.

CliftonStrengths 34 Upgrade is for people who have taken the Top 5 CliftonStrengths assessment and want to see their entire CliftonStrengths 34 profile and get access to all the resources in CliftonStrengths 34. Because this is an upgrade, you cannot use the CliftonStrengths 34 Upgrade unless you have already taken the Top 5 CliftonStrengths assessment.
How do I distribute the CliftonStrengths access codes I purchased for multiple people?

You can distribute the access codes you purchase for others in a variety of ways through our platform's code-management dashboard. You can invite individuals to complete their assessment by sending them an email from the system, or you can export a .csv file containing unique, one-time-use codes to send to each individual.
Can I retake the CliftonStrengths assessment? Will taking it more than once affect my results?

Gallup does not recommend taking the CliftonStrengths assessment more than once.

Our research confirms that your first completion of the assessment yields the purest, most valid and most revealing information. The assessment measures the presence of talents by presenting you with a pair of statements, then asking you to make a top-of-mind choice between the two. There is a 20-second time limit for each statement pair so you don't overthink your responses, thus ensuring the accuracy of the assessment.

Gallup scientists have been studying strengths for more than 40 years, and they find that people's talents do not change significantly throughout their adult lives. Retaking the CliftonStrengths assessment might reveal a different order for some of your themes, but typically, any changes would reflect a minor rearrangement of your themes -- not a major shift in your talents.