CliftonStrengths 34
S$90.00
Tax may be included
CliftonStrengths 34 is the best way for you to understand your talents and maximize your potential. Use your unique access code to complete the CliftonStrengths assessment and unlock your full CliftonStrengths profile, personalized reports and other resources.
Benefits of CliftonStrengths 34:
improved awareness of your natural talents from discovering your full CliftonStrengths 34 profile
greater confidence and empowerment thanks to a deeper understanding of how you can use your CliftonStrengths to succeed
an easy way to describe your unique talent DNA to teammates and others using the common language of CliftonStrengths shared by millions of people around the world
improved performance at work and anywhere when you use the proven advice and ideas for how to apply your CliftonStrengths in every part of your life
success in spite of your weaknesses, with concepts and strategies that help you manage -- not fix -- what you don't do best so you can focus on getting the most from your strongest CliftonStrengths
Product Details
CliftonStrengths 34 reveals your complete unique talent profile, based on your responses to the CliftonStrengths assessment.
Once you've completed the online assessment, you will receive personalized reports, interactive learning and other resources.
These materials explain what you naturally do best and how you can develop and use your talents to live your strongest life possible.
Your CliftonStrengths 34 reports and resources are invaluable as you work with others to accomplish goals -- and they are accessible on any device.
Go beyond a basic understanding of your talents. Unlock the power of your full CliftonStrengths profile to succeed at work and anywhere else with CliftonStrengths 34.
Learn to Navigate All Your CliftonStrengths
CliftonStrengths 34 takes you beyond your Top 5 CliftonStrengths and reveals your complete talent profile -- all 34 CliftonStrengths themes -- shown in rank order based on your responses. This is your talent DNA, and it is completely unique to you.
To help you get the most out of your CliftonStrengths profile, your CliftonStrengths 34 Report:
presents a detailed breakdown of your top 10 CliftonStrengths themes, including ideas for action and potential blind spots for each theme
includes advice on how to navigate your 11-34 themes
gives you ideas for how to identify and manage potential weaknesses
Learn to Succeed When Working With Others
CliftonStrengths 34 also gives you a new way to think about how you work with others and the unique role you play on the teams you belong to.
Your CliftonStrengths 34 Report shows you how your 34 CliftonStrengths sort into the four CliftonStrengths domains and reveals which domain you lead with.
The CliftonStrengths domains help explain how you use your CliftonStrengths to contribute and succeed when you join, create or lead a team.
What's Included
What's Included
CliftonStrengths 34 includes an access code you can use to complete the CliftonStrengths online talent assessment and unlock your personalized reports and other strengths-based development materials, including:
CliftonStrengths 34 Report
Only CliftonStrengths 34 provides you with this in-depth personalized report. The CliftonStrengths 34 Report teaches you how to make the most of your strongest CliftonStrengths and how to understand your full CliftonStrengths profile.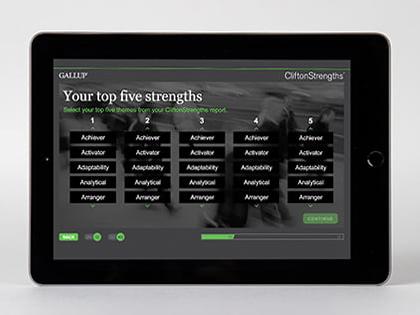 "CliftonStrengths: Your Introduction" E-Learning Module
This interactive learning experience is the first step to understanding how to develop your talents into strengths. During this 20-minute online module, you will use your personalized CliftonStrengths 34 results to learn how you can achieve your potential by doing what you naturally do best.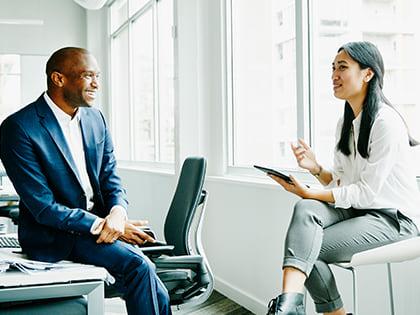 Learn More
Expert Advice via Gallup Access
From redeeming your access code to reviewing your reports and completing your online learning module, your CliftonStrengths experience begins at Gallup Access. Use this online platform to get advice and articles that will help you make the most of your CliftonStrengths.
Strengths Insight Guide
Get in-depth analysis of your top five CliftonStrengths themes. Unique to your specific CliftonStrengths profile, this report describes who you are in astonishing detail and explains what makes you stand out.
Your Signature Theme Report
This report lists full descriptions of your top five CliftonStrengths themes (your Signature Themes) so you can quickly reference your most dominant talents.
Your Theme Sequence Report
View all 34 of your CliftonStrengths themes in order, and read brief descriptions of each theme.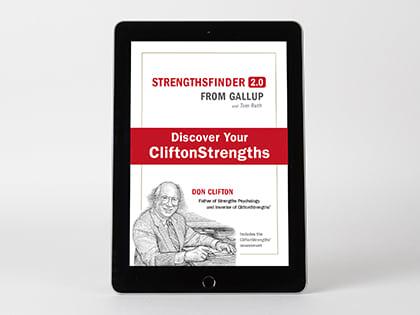 Learn More
StrengthsFinder 2.0 E-book
StrengthsFinder 2.0, Amazon's bestselling nonfiction book of all time, is one of the most popular business books ever written. Learn more about the power of CliftonStrengths and how to do more of what you do best. CliftonStrengths 34 includes a secure digital copy of the book.
How It Works
How It Works
If you're purchasing CliftonStrengths 34 for yourself:
Add the product to your cart. When you are done shopping, proceed to checkout.
Sign in to your account, or create an account if you don't already have one.
After you complete the checkout process, you will receive instructions on how to take the assessment and manage your results, reports and resources on your Gallup Access account.
Start using your personalized CliftonStrengths reports and other resources to maximize your potential.
If you're purchasing CliftonStrengths 34 for others:
Add the number of access codes you want to purchase to your cart. When you are done shopping, proceed to checkout.
Sign in to your account, or create an account if you don't already have one.
After you complete the checkout process, you will receive instructions on how to manage and distribute your access codes using your Gallup Access account.
Frequently Asked Questions
Frequently Asked Questions
What is the difference between CliftonStrengths 34 and CliftonStrengths 34 Upgrade?

CliftonStrengths 34 is for people who have never completed the CliftonStrengths assessment. CliftonStrengths 34 includes all the personalized reports and interactive resources Gallup offers to individual CliftonStrengths users and a full CliftonStrengths 34 profile.

CliftonStrengths 34 Upgrade is for people who have taken the Top 5 CliftonStrengths assessment and want to see their entire CliftonStrengths 34 profile and get access to all the resources in CliftonStrengths 34. Because this is an upgrade, you cannot use the CliftonStrengths 34 Upgrade unless you have already taken the Top 5 CliftonStrengths assessment.
How long will it take to receive the access code(s) I purchased?

Gallup will email your access code(s) and instructions for redeeming your access code(s) within one business day of your purchase.
When I purchase CliftonStrengths 34, will I receive any additional materials?

Yes. In addition to the CliftonStrengths 34 assessment and personalized reports, you will receive an e-learning module and an e-book of StrengthsFinder 2.0. These materials will be available on your CliftonStrengths dashboard.
What age level is the CliftonStrengths assessment appropriate for?

The CliftonStrengths assessment is recommended for individuals 15 years old and older.
Can I take the CliftonStrengths assessment in any languages other than English?

Yes. The CliftonStrengths assessment is available in more than 25 languages. When you start the assessment, you will have an opportunity to select your preferred language.

The CliftonStrengths assessment and reporting are available in the following languages. Strengths Insight Guides are available only in select languages, as noted below.

Arabic (assessment only)
Bulgarian
Cantonese
Chinese (Simplified)*
Chinese Traditional
Croatian
Czech
Dutch*
English (Great Britain)
English (U.S.)*
French (Canadian)
French (European)*
German*
Hebrew
Hindi (assessment only)
Hungarian
Indonesian*
Italian
Japanese*
Korean*
Polish
Portuguese (Brazil)*
Romanian
Russian
Slovenian
Spanish (European)
Spanish (Latin American)*
Swedish
Thai*
Turkish

*Strengths Insight Guide available
How long does it take to complete the CliftonStrengths assessment?

The CliftonStrengths assessment takes approximately 45 minutes to complete on average.
Is the CliftonStrengths assessment timed?

Yes. The CliftonStrengths assessment asks you to choose between two paired statements. There are 177 total statement pairs. For each statement pair, you have 20 seconds to respond. This time limit and your unfamiliarity with the statements ensure the assessment's accuracy by reducing the likelihood that you will overthink your responses.

If you have a reading disability, you can call Gallup Customer Support at 1-888-486-9104 to have the assessment timer disabled.

 
How do I distribute the CliftonStrengths access codes I purchased for multiple people?

You can distribute the access codes you purchase for others in a variety of ways through our platform's code-management dashboard. You can invite individuals to complete their assessment by sending them an email from the system, or you can export a .csv file containing unique, one-time-use codes to send to each individual.
Can I retake the CliftonStrengths assessment? Will taking it more than once affect my results?

Gallup does not recommend taking the CliftonStrengths assessment more than once.

Our research confirms that your first completion of the assessment yields the purest, most valid and most revealing information. The assessment measures the presence of talents by presenting you with a pair of statements, then asking you to make a top-of-mind choice between the two. There is a 20-second time limit for each statement pair so you don't overthink your responses, thus ensuring the accuracy of the assessment.

Gallup scientists have been studying strengths for more than 40 years, and they find that people's talents do not change significantly throughout their adult lives. Retaking the CliftonStrengths assessment might reveal a different order for some of your themes, but typically, any changes would reflect a minor rearrangement of your themes -- not a major shift in your talents.
Can the CliftonStrengths assessment reveal whether I am in the right career?

Gallup designed the CliftonStrengths assessment for individual development. It is not intended to direct you toward specific professions or careers. Although certain CliftonStrengths themes appear to be consistently dominant in certain professions, you do not need to have dominant talents in certain CliftonStrengths themes to be successful in a given profession.

During our research, Gallup discovered that many individuals can excel in the same profession but have very different top five themes. The best way to use your CliftonStrengths to guide your career is to determine how to apply your unique CliftonStrengths profile to whatever role or profession you choose.
Specifications
Specifications
Reports included:

CliftonStrengths 34 Report, Your Signature Theme Report, Strengths Insight Guide, Your Theme Sequence Report

Other materials included:

"CliftonStrengths: Your Introduction" e-learning module, StrengthsFinder 2.0 e-book