Living Your Strengths
€ 23,00
Tax may be included
Spiritual enrichment begins with turning your God-given talents into strengths. Learn more about yourself and your faith -- and how to use your innate gifts for growth, service and praise. Living Your Strengths includes access to the CliftonStrengths assessment.
Product Details
If you're like many people, you might be feeling disconnected from your church and faith community.
More than half of churchgoers report that they don't get to do what they do best in their congregation. And it's driving them away.
But it doesn't have to be this way.
Living Your Strengths shows you how to identify and affirm your God-given talents and how to use your unique gifts for growth, service and spiritual enrichment.
Energize Your Congregation
Every church member plays a role in energizing and shaping the church.
Living Your Strengths will help you find your role -- and, most importantly, it will inspire you to discover your true calling so you can engage and inspire others in your church community.
This book includes a unique access code to take the Top 5 CliftonStrengths assessment. You'll also get personalized reports and tools to learn even more about your strengths.
What's Included
What's Included
Living Your Strengths brings the philosophy of strengths development to faith communities. As you discover more about who God made you to be, you can read stories from real individuals and congregations and the transformations they have experienced from living their strengths in faith.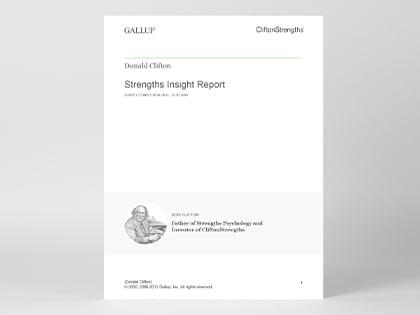 Learn More
Top 5 CliftonStrengths
Every new copy of
Living Your Strengths
includes an access code to take the
Top 5 CliftonStrengths assessment
. After you complete the assessment, you'll get personalized results and reports for your CliftonStrengths 1-5, giving you a partial view of your full
CliftonStrengths 34
profile.
Frequently Asked Questions
Frequently Asked Questions
What is the difference between Living Your Strengths and Living Your Strengths Catholic Edition?

Both versions of Living Your Strengths include an inspirational message and stories about the power of strengths in faith. The main differences between them are the biblical scriptures and language used for each audience.

The Catholic Edition also includes a foreword by Monsignor Bill Hanson, pastor of the Church of St. Gerard Majella in Port Jefferson Station, New York.
Does this book include any assessments?

Yes. This book includes a unique access code to take the Top 5 CliftonStrengths assessment.
How will I receive my access code?

When you purchase a physical book that includes an access code(s), you can find your access code(s) in a sealed packet in the back of the book. The packet includes your unique access code(s) and instructions for how to redeem your code(s) and take the online assessment(s). You will not receive any access codes digitally when you purchase a hardcopy version of a book because all codes are delivered to you in the sealed packet.
What do I do if I need a CliftonStrengths access code immediately and cannot wait for my book to arrive?

You can purchase the Top 5 CliftonStrengths assessment or CliftonStrengths 34 assessment. Access codes for both of these products are delivered digitally.
Specifications
Specifications
Format

Hardcover

Other formats available

NA

Delivery method

Mail

ISBN

978-1-59562-002-6

Approximate page count

272

Publication date

Third edition 2008

Dimensions (W x L x thickness)

6 x 9 x 0.9 inches

Product weight

1.124 lb.