Free Shippingon orders over $150
CliftonStrengths for Students: Leaders (Virtual)
This course teaches leaders how to facilitate strengths interventions with groups and teams by incorporating strengths into existing programming.
You must have a minimum of four participants to purchase a survey.
When
Dec 12, 2023 - Dec 15, 2023
1st Day

10 a.m.-1 p.m.

2nd Day

10 a.m.-1 p.m.

3rd Day

10 a.m.-1 p.m.

4th Day

10 a.m.-1 p.m.
All times are Central Time
Full Agenda

Course agenda subject to change

Strengths, Engagement and Wellbeing
Using Strengths to Accomplish Critical Outcomes
Strengths-Based Advising With Groups
Building Thriving Partnerships
Discovering Your Unique Contribution to the Team
Preparing to Facilitate Strengths-Based Group Activities
Implementing Your Strengths Strategy
---
Course Details
Language

English (USA)

Prerequisites

Register By

Nov 28, 2023

Status

Available
---
Still have questions about this course?
About the Course
What is CliftonStrengths for Students: Leaders?
CliftonStrengths for Students: Leaders is a 12 hour course that will show you how to facilitate and practice leading strengths interventions in your educational institution to enhance your areas of influence. You'll learn how to better understand the values and strengths of teams and their leaders and learn how to use strengths-based tools and techniques to enhance students' individual and collective engagement and wellbeing.
Who Should Attend
This advanced course is for education staff and faculty who are looking to expand the reach of strengths through team sessions and workshops to create a thriving, engaged school or organization.
This program is for strengths advocates who have attended the CliftonStrengths for Students: Advisors course, the CliftonStrengths for Students: Champions course or the Successful Strengths Coaching course and who are interested in using strengths with individuals, groups and teams.
What You'll Learn
The CliftonStrengths for Students: Leaders empowers leaders to influence and facilitate their strengths-based engagement and wellbeing strategy throughout their school or organization.
You'll learn how to develop new strengths-based strategies, integrate strengths into existing programming, and help school leaders and students understand their strengths -- all while continuing to explore your own natural talents and strengths.
What's Included
What's Included
When you take this course, you'll get practical and proven resources that set you up for success as a strengths-based educational leader.
For courses that include physical materials, Gallup will deliver them to the shipping address that you provide during the course registration process.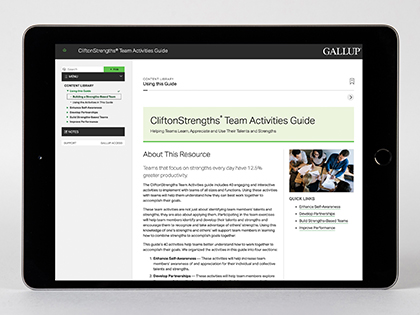 Learn More
CliftonStrengths Team Activities Guide
The CliftonStrengths Team Activities Guide includes 40 engaging and interactive activities to implement with teams of all sizes and functions. Using these activities with teams will help them understand how they can best work together to accomplish their goals.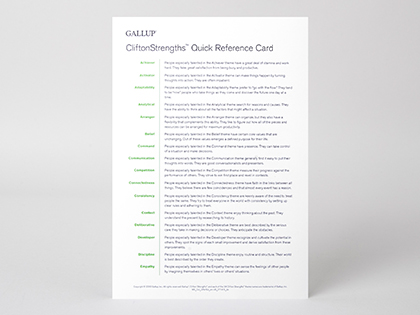 Learn More
One CliftonStrengths Quick Reference Card
The CliftonStrengths Quick Reference Card is a handy resource when you need to quickly view all 34 CliftonStrengths theme descriptions.
CliftonStrengths for Students: Leaders Learning Journal
Take notes, jot down reflections and synthesize concepts in your beautifully designed Gallup learning journal.
Additional Items Included
Course Completion Certificate
Please note: Participants of non-English courses will receive all course materials in print format, not digitally.
Frequently Asked Questions
Frequently Asked Questions
I am a full-time educator. Am I eligible to receive an education discount?

Yes. If you are a full-time educator or employee of a K-12 or higher education institution, you're eligible. To receive your discount for this course, connect with a Gallup education consultant.
Do I need to be an educator or work for an educational institution to take this course?

Yes. This course focuses on using CliftonStrengths in an educational setting.
Does this course qualify for Gallup strengths certification?

No, but strengths certification complements these courses, and many learners in an educational setting choose to become a Gallup-Certified Strengths Coach. To begin your certification journey, complete the Gallup Global Strengths Coach course (full curriculum) or both the Successful Strengths Coaching course and the Coaching Individuals, Managers and Teams course.
What are the differences between in-person courses and virtual courses besides the format?

Gallup has been using different teaching modes to deliver client learning for years. A Gallup expert leads every course, whether you choose to attend virtually or in person, and the learning resources and materials are the same. Some virtual courses may offer slightly more professional credit hours compared with the in-person option.

Our in-person courses are held in major cities throughout the world, including at Gallup offices, hotels and partner organizations. These instructor-led courses offer you all the benefits of a traditional in-person learning experience.

And now, our most popular courses are available in a virtual format. Gallup's instructor-led virtual courses are interactive -- complete with live video calls, breakout activities and chat functionality for participants. Virtual courses are offered in a variety of time zones to accommodate your schedule.
What if I have more questions about Gallup courses?

Please see our Gallup Courses FAQ for general information about Gallup courses.