Free Shippingon orders over $150
Advanced CliftonStrengths Coaching (Virtual)
Coach people to master their CliftonStrengths. Explore the seven CliftonStrengths developmental milestones, and take your coaching to the next level.
You must have a minimum of four participants to purchase a survey.
When
Nov 08, 2022 - Nov 09, 2022
1st Day

8:30 a.m.-5 p.m.

2nd Day

8:30 a.m.-5 p.m.
All times are Central Time
Full Agenda

Course agenda subject to change

Day One

Welcome and Introduction
The Pursuit of Mastery
Your Pursuit of Mastery
Understanding
Awareness
Appreciation
Focus and Investment
On the Road to Mastery

Day Two

Welcome and Introduction
Digging Deeper Into CliftonStrengths
Complementary Partnerships
Application and Strategy
Self-Expression and Self-Regulation
Advancing Your Coaching
---
Course Details
Language

English (USA)

Prerequisites

Register By

Oct 25, 2022

Status

Available
---
Still have questions about this course?
About the Course
What Is Advanced CliftonStrengths Coaching?
Advanced CliftonStrengths Coaching is a two-day course that puts you and the people you coach on the path to CliftonStrengths mastery.
You'll explore the seven CliftonStrengths developmental milestones that Gallup has identified:
Understanding
Awareness
Appreciation
Focus and Investment
Complementary Partnerships
Application and Strategy
Self-Expression and Self-Regulation
Who Should Attend
This course is for CliftonStrengths coaches who want to continue their education and development in their role. You do not need to be a Gallup-Certified Strengths Coach to participate in this course.
What You'll Learn
During this two-day course, you'll explore the CliftonStrengths developmental milestones and practice integrating them into your coaching.
At the end of this course, you will be able to:
assess levels of strengths mastery
use the CliftonStrengths developmental milestones to understand where clients are on their path to strengths mastery
use your understanding of the CliftonStrengths developmental milestones to help clients overcome their challenges
practice coaching techniques through multiple activities and coaching conversations
broaden your expertise by sharing coaching best practices
The Virtual Experience
Gallup virtual courses don't just replace an in-person course. They're an experience unto themselves.
Designed for adult learners, this live virtual course combines video calls and independent learning assignments that prepare you to integrate new tools and discoveries into your everyday life, right away.
You'll meet a network of instructors and classmates and work together with full video, audio and interactive functionality, including chat and breakout conversations.
With Gallup's virtual expertise, the possibilities for transformative learning are endless.
What's Included
What's Included
When you take this course, you'll get resources that support your development as a coach.
For courses that include physical materials, Gallup will deliver them to the shipping address that you provide during the course registration process.
Professional Credit Hours
Participants who successfully complete Gallup courses can earn professional credit hours from leading organizations, including ICF, HRCI and SHRM. Credit hours may vary by course and course type. For more information, contact CEU@gallup.com.
CliftonStrengths Resource Guide
The CliftonStrengths Resource Guide gives you talent theme descriptions, action items and insights into the power of each of the 34 themes.
CliftonStrengths Discovery Cards
With insights, metaphors and ideas for using them, CliftonStrengths Discovery Cards are a valuable resource that will enhance your conversations, relationships and life -- great for managers, coaches and anyone who is helping develop the strengths of others.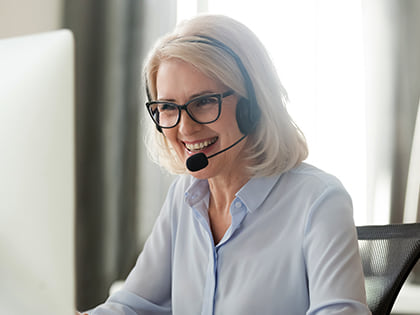 One-on-One Coaching Conversation With a Gallup Strengths Coach
After attending this course, you'll have a coaching call with a professional Gallup Strengths Coach. Together, you will discuss how to apply and integrate the concepts you learned in Advanced CliftonStrengths Coaching.
Additional Items Included
Advanced Strengths Coaching Learning Journal
CliftonStrengths Developmental Milestones Resource Guide
CliftonStrengths Development Milestones Self-Assessment
CliftonStrengths 34 Report
Please note: Participants of non-English courses will receive all course materials in print format, not digitally.
Frequently Asked Questions
Frequently Asked Questions
What are the prerequisites for the Advanced CliftonStrengths Coaching course?

Before you take this course, you must complete the Gallup Global Strengths Coach course or the Successful Strengths Coaching and the Coaching Individuals, Managers and Teams courses.
I'm seeking my ICF Certification. Will this course count toward ICF professional credit hours?

Yes. You will receive ICF (International Coach Federation) professional credit hours for attending this course.
I've been coaching with CliftonStrengths for a while now. How would this course benefit me?

Advanced CliftonStrengths Coaching will help you pursue mastery in both coaching and CliftonStrengths, making your coaching with clients deeper and more meaningful. In this course, you'll explore these topics to enrich and further develop your coaching:

understanding the CliftonStrengths themes
focusing on complementary partnerships
application and strategy with strengths
self-expression and self-regulation
What are the differences between in-person courses and virtual courses besides the format?

Gallup has been using different teaching modes to deliver client learning for years. A Gallup expert leads every course, whether you choose to attend virtually or in person, and the learning resources and materials are the same. Some virtual courses may offer slightly more professional credit hours compared with the in-person option.

Our in-person courses are held in major cities throughout world, including at Gallup offices, hotels and partner organizations. These instructor-led courses offer you all the benefits of a traditional in-person learning experience.

And now, our most popular courses are available in a virtual format. Gallup's instructor-led virtual courses are interactive -- complete with live video calls, breakout activities and chat functionality for participants. Virtual courses are offered in a variety of time zones to accommodate your schedule.
What if I have more questions about Gallup courses?

Please see our Gallup Courses FAQ for general information about Gallup courses.