Free Shippingon orders over $150
Creating an Engaging Workplace Course for Engagement Champions (Virtual)
Improve your workplace with real results. Learn how to foster an engaging culture and develop high-performing teams, one employee at a time.
When
Sep 06, 2023 - Sep 07, 2023
1st Day

8:30 a.m.-5 p.m.

2nd Day

8:30 a.m.-5 p.m.
All times are Eastern Time
Full Agenda

Course agenda subject to change

Day One

Engagement Matters
The Role of Engagement Champions
Creating an Engaging Workplace Course (Manager Education)
Facilitation Tips and Frequently Asked Questions
Discoveries and Homework

Day Two

Digging Deeper: The 12 Elements of Engagement
Expanding Your Influence
Engagement Coaching

Preparing to Coach
Review Q¹² Results and the State of the Team Conversation
Make Engagement Intentional Throughout the Year
Reassess and Modify the Approach as Needed and Share Best Practices

Next Steps
---
Course Details
Language

English (USA)

Register By

Aug 23, 2023

Status

Available
---
Still have questions about this course?
About the Course
What Is Creating an Engaging Workplace Course for Engagement Champions?
This two-day course will empower you to be an Engagement Champion in your organization. It will prepare you to integrate employee engagement principles, offer advice, educate leaders and teams, and support engagement efforts to create an engaging workplace culture.
You will also learn how to facilitate a half-day course for managers on creating an engaging workplace.
Who Should Attend
This course is for Engagement Champions -- human resources team members, business partners, leaders, managers or individual contributors -- anyone who is enthusiastic about creating an engaging work environment and championing engagement initiatives in their organization.
What You'll Learn
During this course, you will learn how to:
promote and advocate for workplace engagement
guide managers through the engagement process over time
provide ongoing support to managers throughout the year
empower managers to take the necessary steps to create engaged teams
provide developmental and consulting conversations
facilitate the half-day Creating an Engaging Workplace Course for Managers
The Virtual Experience
Gallup virtual courses don't just replace an in-person course. They're an experience unto themselves.
Designed for adult learners, this live virtual course combines video calls and independent learning assignments that prepare you to integrate new tools and discoveries into your everyday life, right away.
You'll meet a network of instructors and classmates and work together with full video, audio and interactive functionality, including chat and breakout conversations.
With Gallup's virtual expertise, the possibilities for transformative learning are endless.
What's Included
What's Included
For courses that include physical materials, Gallup will deliver them to the shipping address that you provide during the course registration process.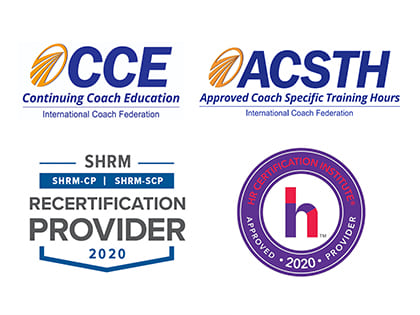 Learn More
Professional Credit Hours
Participants who successfully complete Gallup courses can earn professional credit hours from leading organizations, including ICF, HRCI and SHRM. Credit hours may vary by course and course type. For more information, contact CEU@gallup.com.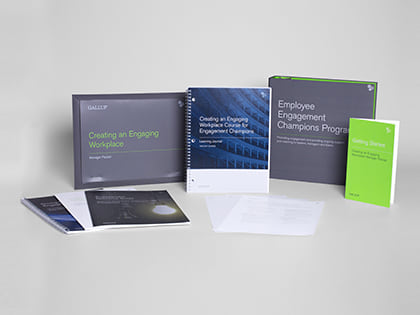 Engagement Every Day Champions Toolkit
This robust toolkit gives you the practical tools and techniques you need to promote and advocate for engagement in your organization.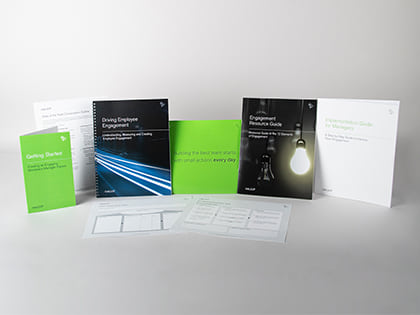 Learn More
Creating an Engaging Workplace Manager Packet
Engaged employees are the foundation for team performance. Find out how to create engaged and high-performing teams with essential resources based on Gallup's latest engagement research.
Additional Items Included
Learning Journal
Gallup Employee Engagement Hierarchy Quick Reference Card
Distribution Resources to Promote Engagement
Please note: Participants of non-English courses will receive all course materials in print format, not digitally.
Frequently Asked Questions
Frequently Asked Questions
Do I need to be a people manager to benefit from this course?

No, you do not need to be a people manager. This course is recommended for anyone leading employee engagement initiatives at their organization.
Do I need to use the Gallup Q12 survey to take this course?

Gallup recommends that your organization use the Gallup Q12 employee engagement survey to get the most out of the course. If your organization uses a different survey tool, you will still benefit from aspects of this course such as presurvey and postsurvey communication plans, helping managers lead engagement conversations with their people, and how to create action plans based on your engagement results.
Should I take the course before or after my organization's employee engagement survey?

It's up to you. You will benefit from this course regardless of if you take it before or after administering the survey. This course covers many aspects of an organization's employee engagement strategy: presurvey communication, preparing your managers and employees for results conversations, action planning, leading engagement discussions, and supporting managers after the survey.
What are the differences between in-person courses and virtual courses besides the format?

Gallup has been using different teaching modes to deliver client learning for years. A Gallup expert leads every course, whether you choose to attend virtually or in person, and the learning resources and materials are the same. Some virtual courses may offer slightly more professional credit hours compared with the in-person option.

Our in-person courses are held in major cities throughout world, including at Gallup offices, hotels and partner organizations. These instructor-led courses offer you all the benefits of a traditional in-person learning experience.

And now, our most popular courses are available in a virtual format. Gallup's instructor-led virtual courses are interactive -- complete with live video calls, breakout activities and chat functionality for participants. Virtual courses are offered in a variety of time zones to accommodate your schedule.
What if I have more questions about Gallup courses?

Please see our Gallup Courses FAQ for general information about Gallup courses.